Yoga, Health and Spirituality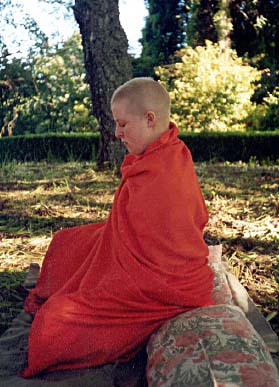 Meditating in the Te Kouka garden, 2000
Caroline's interest in yoga began when she was at secondary school. She borrowed Bibby's books, and the two of them enjoyed practising together. Her interest grew when her health became a problem - she saw yoga as a healing tool, and was particularly interested in learning about meditation techniques when she and Bibby went on residential courses at the Gawler Centre out of Melbourne.
Back in Dunedin, Caroline attended Ashtanga Yoga classes, and the Anthropology papers that she chose reflected her growing desire to learn more about Eastern thinking. She was fascinated by different religions, cultures and philosophical viewpoints, and she was drawn to Buddhism.
In 2002 she studied Religions of SE Asia, and she also took a paper entitled 'The Anthropology of Health". She believed that body, mind and spirit are inseparable parts of the whole, and liked the Māori concept of mauri - that everything in the world is linked by the same life force.
The parallels between Yoga and Māori philosophies interested her; the emphasis on balance, the breath, and the indestructible spirit.
Caroline was fascinated by the mind/body connection, and in one of her journals she wrote the following quote from an essay on centering by Bonnie Bainbridge-Cohen:
"The mind is like the wind and the body is like the sand; if you want to know how the wind is blowing, you can look at the sand."
She was especially interested in the idea of an interplay between the conscious and unconscious mind, "fluid and flowing in both directions all the time." She saw the unconscious as a source of inspiration and images "for my conscious mind to play with".
Caroline chose meditation as the way of exploring different levels of consciousness and getting in touch with her inner self. During the course of her illness, meditation became increasingly important to her, and was perhaps the source of her extraordinary calm and poise. The spiritual aspects of yoga held great appeal: she understood the "Bhagavad Gita"'s image of death as the casting off of an article of clothing, and she had no fear of dying. A keen reader, she had the book "Morrie in his Own Words" beside her bed in the hospice, and she liked this quote: "Once you learn how to die, you learn how to live." In the last days, Caroline was happy that Bibby visited the Dhargyey Buddhist Centre in Dunedin, and that she returned with a mantra; they repeated this mantra together up until Caroline's death.
Yoga, Health and Spirituality