Caroline - Her Dance
Dance was the greatest of Caroline's passions, but it was more than just a passion. Dance was what she loved to study, to write about, to watch, to perform, to teach. It was what she believed in, and - as she wrote in her journal - "..it is the most powerful form of expression I have."
The Dannevirke Dance Years
Caroline couldn't wait to start learning ballet: at the age of five she began classes with Joan Irvine, and was a pupil of hers for the next nine years. During that time Caroline also learnt national dancing, tap dancing and modern dancing. She did extremely well in exams, partly due to the fact that she never felt nervous - she loved performing in front of people, even examiners!
| | | |
| --- | --- | --- |
| Age 5 | Ready for national dance examination | Practising for the RAD Summer School, 1988 |
Fortunately, Miss Irvine often put on dance recitals, so Caroline got to dance in front of large local audiences in the Dannevirke Town Hall. A memorable night was Miss Irvine's 50th Jubilee Recital: Caroline adored the many costume changes, the make-up, and the sense of occasion. So she was beside herself when she was chosen to dance in the Royal New Zealand Ballet's Palmerston North performances of "The Nutcracker'. Then in 1988 she was offered a place at the Royal Acadamy of Dance's Summer School in London - an amazing experience for a ten year old from rural New Zealand. Caroline never lost touch with Miss Irvine: she respected her hugely, and regarded her as her first dance mentor.
The Woodford Dance Years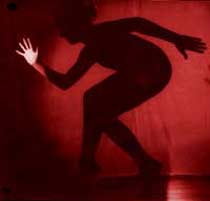 Caroline went as a boarder to Woodford House, but for a time she managed to continue dance classes in Dannevirke. Though the demands of a full school life meant that Caroline had to stop attending formal dance classes, she continued to enjoy the performing arts while she was at Woodford. It was at this time that she began to think of a career that would enable her to help others through dance therapy, and she decided to do Physiotherapy.
The Dunedin Dance Years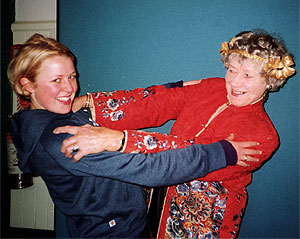 With Shona Dunlop MacTavish
The year she started in Dunedin as a student of Health Sciences, Caroline discovered that the distinguished Dunedin dancer and choreographer Shona Dunlop MacTavish took classes, and she leapt at the opportunity to pick up the thread of dance again. Caroline immediately knew she had found an inspiring teacher - Shona believed that dance expressed mind, body, and spirit, and she encouraged free and fluid movements. A highlight for Caroline was performing in "A Feather on the Breath of God", about the visionary Hildegard of Bingen.
A highlight of her second year as an undergraduate was being allowed to take a dance paper, Fundamentals of Dance, on top of her Physiotherapy papers. Her excitement is conveyed in her dance journal.
Then ill health shifted Caroline's focus. Chemotherapy meant a year away from university, and when she returned to Dunedin she decided to switch from Physiotherapy to Anthropology. She knew she wanted to continue studying dance, and the head of the Dance School, Ralph Buck, began to play a significant part in the development of Caroline's dance philosophy. She chose to do the papers Dance in Education and Dance and the Community, and her ideas took off!
Full of energy at this stage of remission, on an impulse she walked into the office of the Otago Arts Festival one evening to ask if they needed any help. Her offer was taken up, and she became their first ever volunteer. She loved the buzz of organising friends to conduct a Festival survey, zooming round the different venues in her dark green Subaru Impreza, co-ordinating the front of house at the late night Festival Club, grabbing every opportunity to watch dance and theatre performances. She was in her element.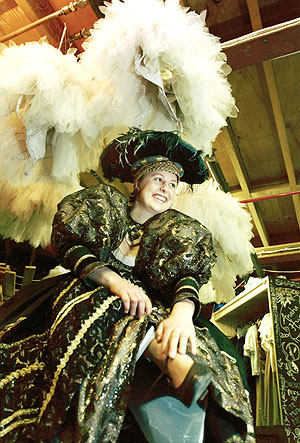 Swan Lake, 2002
The following April the tumour returned, and her left lung was removed in Wellington Hospital. She returned to Dunedin in June, to resume her studies and to begin a six week course of radiotherapy, just when the Royal New Zealand Ballet was about to arrive in the city, on tour with "Swan Lake". Caroline and three other dance friends were asked to appear as courtiers in the Dunedin performances, and Caroline wasn't going to let radiotherapy or studies hold her back from getting up on stage again! She'd race from the hospital to rehearsals at the Regent Theatre - it was a crazy, typically Caroline, time.
Though that was her last 'stage appearance', Caroline's Dance was now set to leap off in many new and exciting directions. Her 'BOOST' paper was written at this time, she danced with choreographer Daniel Belton, set up Creative Dance classes for children with friend and dance teacher Davina Holmes, and worked closely with Ralph Buck and Sylvie Fortin. She was amazed to feel accepted as part of the Dunedin dance fraternity which she so respected.
By this stage, Ralph Buck had become Caroline's dance mentor. Recognising Caroline's abilities, he pushed her to new challenges; he suggested the "BOOST" paper should be offered for publication, and submitted it for inclusion in the CORD International Dance Research Conference to be held in Taiwan. Before she died, Caroline knew the paper had been accepted by CORD, that she was a published writer, and that she was admired by her dance colleagues. Dreams had come true.