Music
Caroline wrote the following quote in one of her jounals:
"Music isn't something we do:
it's who we are. It surrounds us.
It dwells in us. It is everywhere.
And without it we are nothing."
One of her piano teachers recognised her passion, and commented that, whereas the rest of us need food, Caroline needed music. She was right. For her, music was an integral part of being: as a very small child she loved to be held and swung around to music, and at the end, she asked for her favourite CD's to be brought to the hospice where they were played continuously.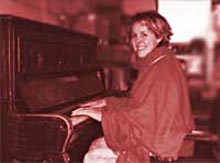 Heriot Row, March 2003
Caroline was totally transported when she played the piano; she played with great feeling, and her body moved with the music. She was very proud of her own piano, and how she came to own it: she had answered an advertisement that was pinned up in the Dance Department, "Piano - Free to Good Home", and friends had helped transport it to "The Palace", her flat in 1999. It went with her to Gladstone Road, to the rented accommodation in Heriot Row, and then on to Walton Street.
Caroline's appreciation of good music developed when she was at secondary school. She was no singer, but she loved to listen to the Woodford House choir, to the orchestra, and to Mr Bowler playing on the chapel organ. She discovered two of her favourite pieces at this time - Pachelbel's "Canon" and Elgar's "Nimrod", from the Enigma Variations - and both were played at her funeral.
She was always on the look out for new sounds: her large collection of CD's included classical, jazz, pop, and music from all parts of the world, but especially Africa.